The van was originally brought into this country for T2D by Steve Walker and has had one owner since. I bought it off him in 2010. Mileage is 70k
I have spoken to Steve Walker regarding the low mileage and although there isn't any documentation to verify the mileage, he is happy to confirm it's correct.
Has had a full service from Brickwerks in the past with receipt to prove and i've done oil change etc. I've done approx 5,500 miles since owning it.
1991 t4 2.5L petrol Gipsy owned by me since Jan 2010
Hasn't missed a beat or let me down in that time, drives lovely with smooth gear changes through all five gears and can return sensible mpg. It also goes like stink when the need arises!
The power steering is brilliant and makes the van a pleasure to drive
** private reg and roofbox not included in the sale **
Mot until Jan 2013 and tax until the end of Aug 2012,
FEATURES:
1:Sleeps 4 Adults or 2 Adults and 2-3 kids, dependent on age/size
. The rear seating area is quickly transformed into a double bed, with another double bed above the cab area.
2:Kitchen area is well equipped with a sink with hot/cold running water. A two burner hob and 3 way fridge, the fridge performs brilliantly on all 3 power sources and will even ake ice cubes.
3:There is blown air heating accompanied by a radiator close to the rear seating area, again this great for those chilly nights or frosty mornings.
4:Storage is excellent as you would expect, with low level and high level cupboard space, space behind the front seats and obviously under the rear seating area, this can be accessed by the side locker door or by lifting the seat cushions inside.
5:The shower room has hot and cold running water, with the sink tap being able to be hung on a bracket at high level for showering. The toilet is a thetford item with push flush and has a waste container which can be removed from outside the van.
6:Calista 12v circuit board which gives water level indication, battery life indication for both main and leisure battery. This also has a 12v socket for a cigar type connection enabling extensions for TV/games or other 12v appliances to be connected.
7:Seperate switches for the rear striplights and ceiling light.
8:One 240v socket, this has never been a problem for us as we use a small multi point extension lead if we need to use more than one 240v item at the same time.
9: 2 gas bottles in the gas locker (accessed from ouside), we use a 12kg bottle for the main van usage and a 7kg for outside gas bbq/gas stove etc.
10:All windows have flyscreens and blackout blinds fitted from the factory.
11: Has 10 cd changer as well
I'm sure i've missed some thing out but thiere is hopefully enough info here for anyone interested? And hopefully i'll get more pics up at the weekend?
Mileage is somewhere around 69-70k, i'll check this when i get the cover off it and the weather is better.
Things done or replaced on the van are as follows ( non urgent just to keep me happy ):-
New electrical regulator and ignition switch for the fridge £70
New microswitch for the bathroom tap £25
New mushroom vent for the bathroom
New plastic insert for the ally trim around the doors etc £10
New red coachline stripe to both sides and front wings £50
New lining to the walls in the over cab bed £25
New mattress cover for the over cab bed £45
Drivers captains seat and twin passenger seat re-trim £300
Cab carpet £20
Wind deflectors £25
Wheel arch covers/trim £35
Bonnet bra £65
Eibach springs fitted this year £192
Retro door blind/flyscreen £15
Roll out awning £175
The only reason for a possible sale is to upgrade to another karmann model, otherwise i'll just keep enjoying this one
Price is £10,700 FIRM, it stands me a little more than that but i'm not out to rip anyone off, just trying to get most of my investment back.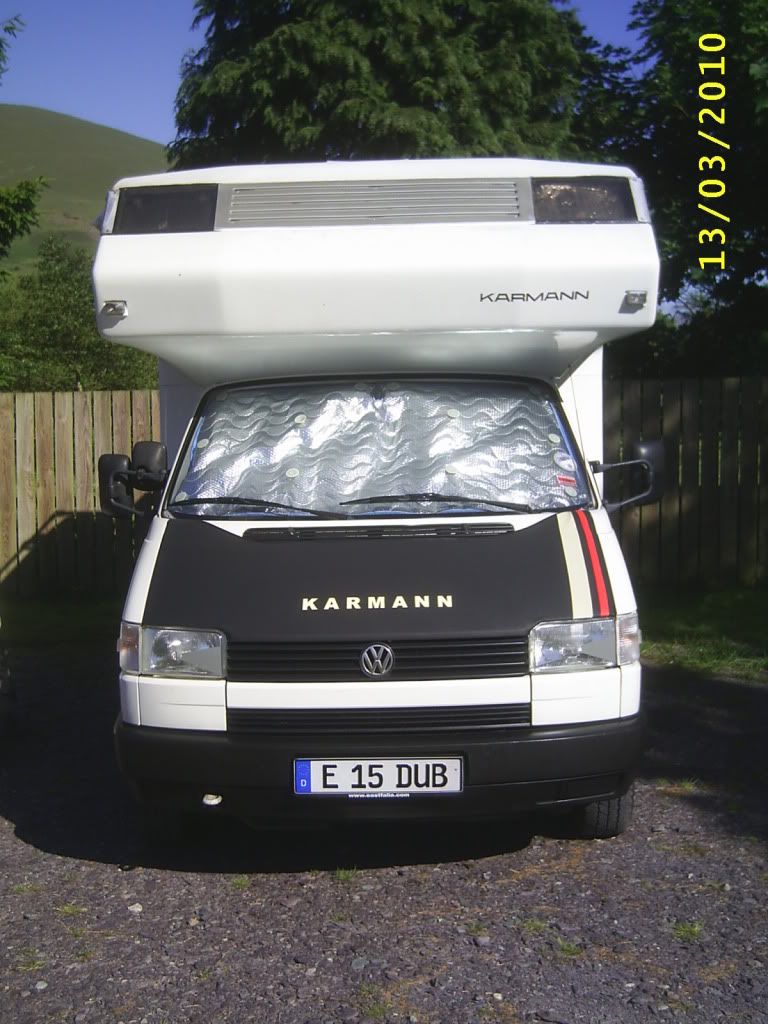 Van is in the North West. Ian 07851 783811 NO TEXTS OR WITHELD NUMBERS PLEASE!!!


Edited by regthewedge - 14 Jun 12 at 19:33