You may have read my reveiw of the Reimo roof bed in the general chat section.
In it I mentioned that Jerba Campervans bond strengthening pieces into the ends of each bed section to make it suitable for, they claim, a maximum combined 150kg of adults' weight sleeping in the bed. As it happens Mrs ECB and me weigh 150kg together, so I thought it'd be fine.
Well, after the first night, I found that the unsupported front edge of the bed had bent. Not surprisingly really, as the extremely lightweight willow ply is only 15mm thick and the "U" section steel end cap is only 1.5mm thick painted steel, so the edge is only 18mm deep. The thing is, you have to put quite a bit of weight on the edge as you get into and out of bed, and the steel edge has no spring on it, so what happens is it bends and stays there.
That's the bad news. The good news is I made a very effective modification this afternoon that solves the problem, for a cost of about ten quid.
What I did was bought a 1035mm length of "L" section stainless steel (25mm deep) and secured it with six M6 bolts through the steel edge trim of the bed deck. It's 6mm thick so pretty substantial and the 18mm deck edge fits snugly into it so it sits flush at the top. The protruding nuts are covered by the mattress so not a problem. I can now hang all my weight off the middle of the edge with virtually no flex.
It's a pretty heavy piece of metal but the gas struts still easily manage to hold the bed in the "up" position for daytime use.
Some photos:
The "before" front view showing the steel capped edge.
The "after" with stainless steel strengthener.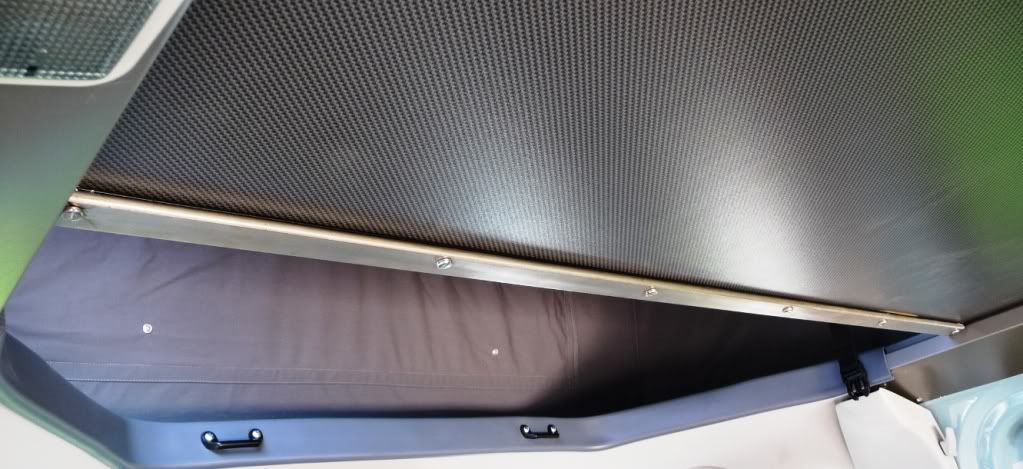 I guess if you intend to use the bed only for kids this is unnecessary, but for adult use it's essential, I'd say.
If the sections of the bed further back start to sag I'll fit some "U" section stainless strengtheners.
Or maybe me and the missus will have to stop eating so many pies!!


Edited by orangina - 19 Nov 09 at 15:30