Here is the manifold removal guide. I am not a mechanic, nor do I pose to be, however I was good with Lego as a kid.
WARNING!! THIS IS A PIG OF A JOB! YOU HAVE BEEN TOLD!
You have probably come here after looking at the 'Turbo Squeal fix' or the 'Turbo and Manifold Issues' thread so you already know what problems you have.
Estimated Work Time: 2 Days, although, if you are on it, and you have a helper, you could probably get it done in a day.
Tool list: Required
* Ramps/Jacks x2 + Axle Stands
* 5mm Allan key bit with at least 3 extenders or 5mm Allan key
* 8mm Spanner
* 10mm Spanner
* 13mm Spanner
* 13mm Socket
* 15mm Socket
* 16mm Socket
* M10 Spline/Triple Square Socket
* M12 Spline/Triple Square Socket
* Ratchet
* Socket Wrench
* 2x Universal Joint Sockets (This is important!)
* 2x Standard length extender bar - about 4-5" long
* 1x Long extender bar
* Penetrating oil (Plus Gas)
* Large Flat-blade Screwdriver
* Wire Brush
* Swear Jar
Note: the spanners I am using have ratchets built in and are also multi-angled.
Tool list: Good Idea.
* Light
* Small Ladder
* Safety Goggles
* Hacksaw
* Angle Grinder
* Twatting Hammer
* Lots of clean rags
* A few elastic bands
* A syringe - 50ml or so
* Extending magnet, or even better - extending grabber
_________________________________________________
Parts List: Required
* 1x Manifold Gasket: 070 253 039 C
(Number 2 in Manifold Parts Image)
* 1x Turbo Gasket: 070 145 757
(Number 23 in Turbo Parts Image)
Part List: Good Idea
* 10x Manifold Nuts: N 902 002 01
(Number 4 in Manifold Parts Image)
* Locktite:
(Number 5 in Manifold Parts Image)
* lots of clean rags
Parts List: If things have gone wrong
* Exhaust Bracket:
_________________________________________________
Manifold Parts:
Turbo Parts: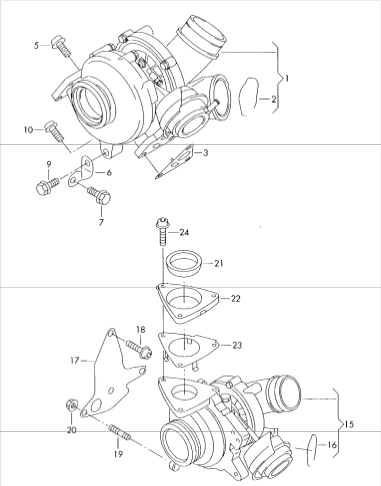 First Job: Get van on ramps or up in the air using some jacks, use some axle stands!
Important: Swear jar and loose change must be easily accessible!
Right, we are ready to start, T5 TDI has already mentioned the order in which to do this job; it goes: CAT/Exhaust --> Turbo --> Manifold.
( 1 ) CAT/Exhaust Removal: !!BELOW VAN!!
To remove the CAT you will most likely want to use something like penetrating oil to soak into the bolts as they will be rusty and won't want to play.
There are 5 bolts holding this in place:
Two at the rear (Photo 1) which are 15mm bolts. This itself is built up of 5 parts (Photo 1.1).
4) 2x bolts that are curved to the contours of the bracket.
I am not going to lie, this is the first hurdle. This did not come apart easily. One bolt sheared and the other rounded itself off, this meant that it needed cutting off. It then required a lot (I mean a lot) of penetrating oil - might be able to save yourself several hours by using PlusGas here, a lot of rust removal using a wire brush, a bit of gentle persuasion by tapping the inside of the outer shell (the stainless steal bit), and a lot of patience. If you have broken the bolts then you will need some new ones, not sure on the part number as I made up my own set.
Next, there are two 13mm bolts at the middle (Photo 2). These stripped the threads for me - very nice of them to do so. If this happens to you and you have access to an angle grinder, loose them!
And finally, one 5mm allan key bolt at the front which holds the exhaust to the Turbo (Photo 3), DO NOT FULLY UNDO THIS BOLT! Undo the bolt a bit and it should lift up thus freeing up the pipe clip.
A large flathead screwdriver is good here. Put it between the bracket and the turbo and leverage the clip off. This then allows the next bit to open up and the exhaust pipe should now be free. If it is not, you will need to get a screwdriver and a bit of penetrating oil in there - use a hammer if needs be.
A gasket will fall out when you remove the exhaust (Photo 4) this should go back in place with the smaller side facing the exhaust flange.
(Photo 1: 15mm Bolts - Back of CAT)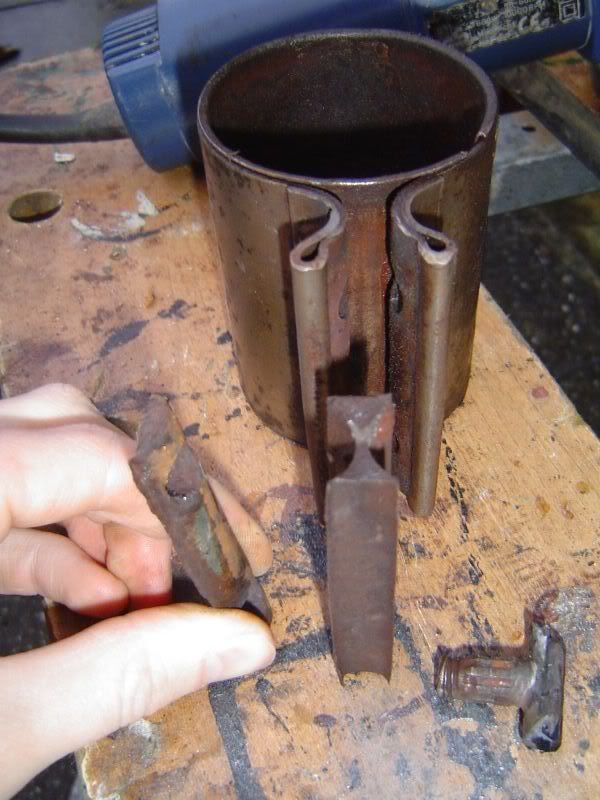 (Photo 1.1: The bracket of doom! (as above) If yours looks like this then you have done well son you have).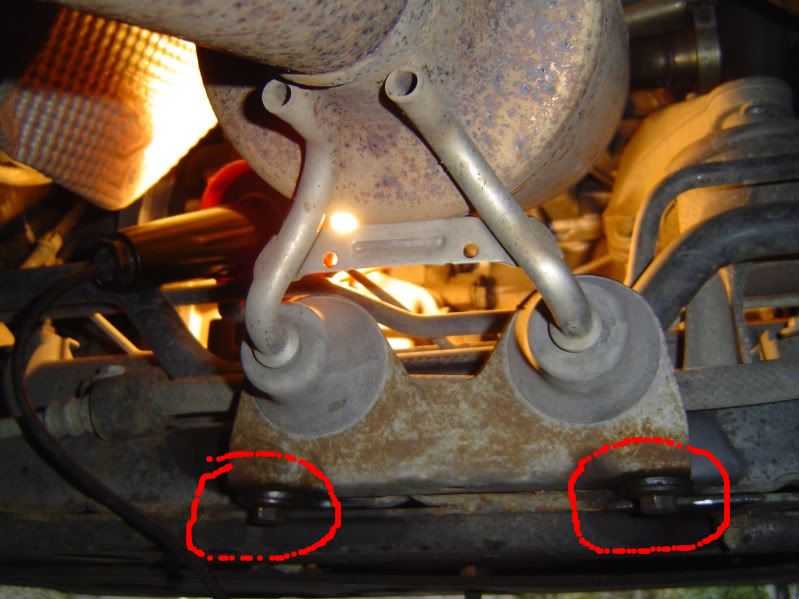 (Photo 2: 13mm Bolts - Middle of CAT)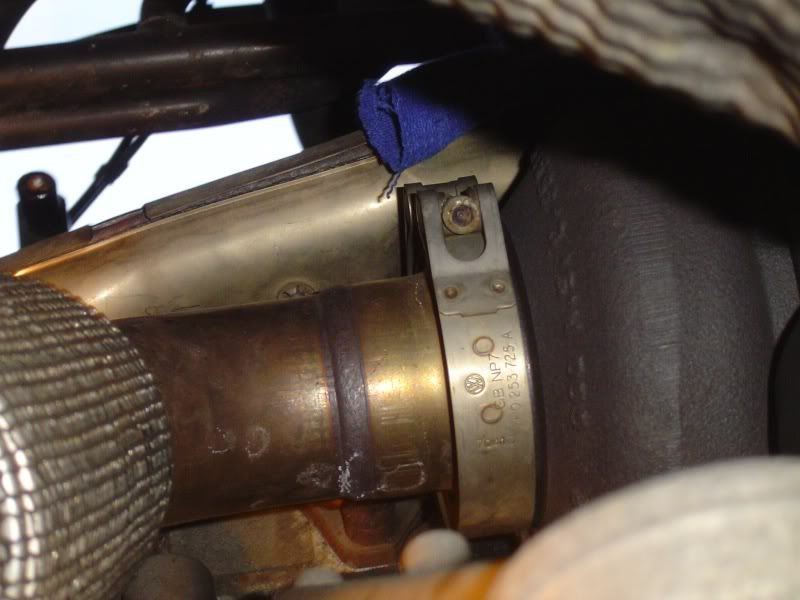 (Photo 3: 5mm Allan Key Bolt - Front of CAT/Turbo. Note: DO NOT FULLY UNDO!)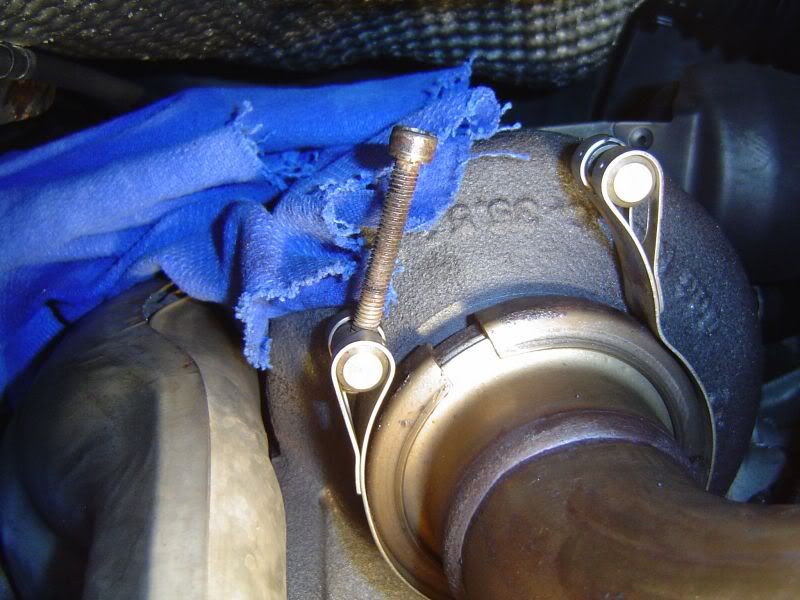 (Photo 3.1: Side on view of the exhaust to turbo clamp).
(Photo 4: Exhaust to Turbo Gasket)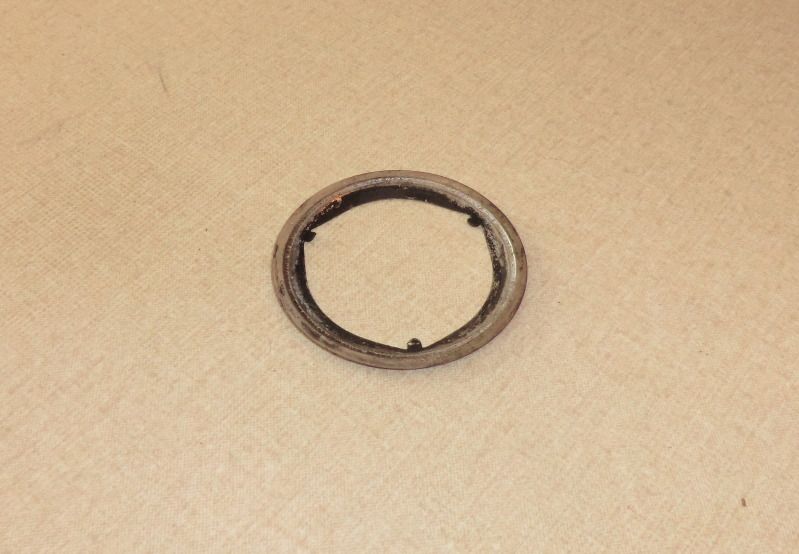 For re-installation, gasket follows the exhaust flange (small side on exhaust side).
_______________________________________
( 2 ) Remove EGR connecting pipe (Photo 5) !!ABOVE VAN!!
To remove the EGR connecting pipe you will need to undo the pipe clip (Photo 6) which connects the EGR to the manifold. This is a 5mm Allan Key Bolt (remove fully). Next Undo the 10mm bolt that holds the EGR connecting pipe to the support stay (Photo 7), and finally remove the two 13mm bolts that connect the pipe to the EGR (Photo 8), be careful to catch the gasket or EGR blocking plate depending on which you have.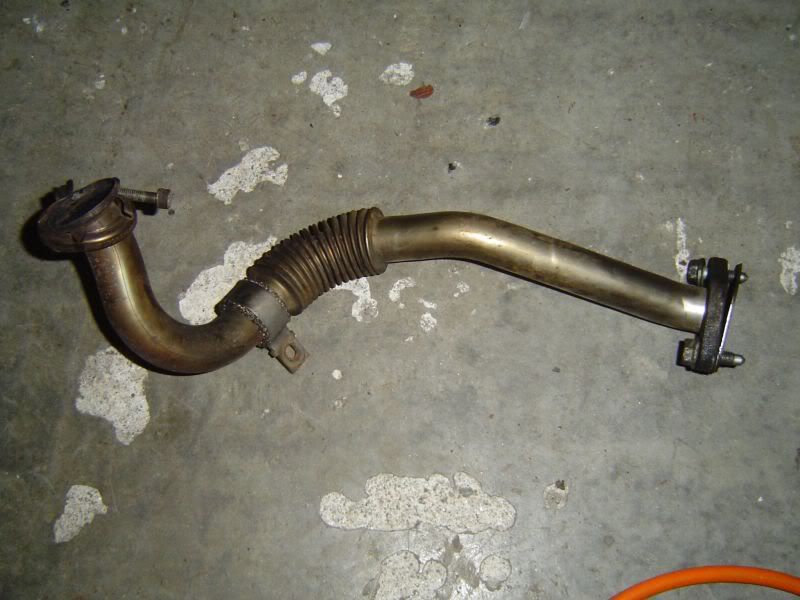 (Photo 5: EGR Connecting Pipe)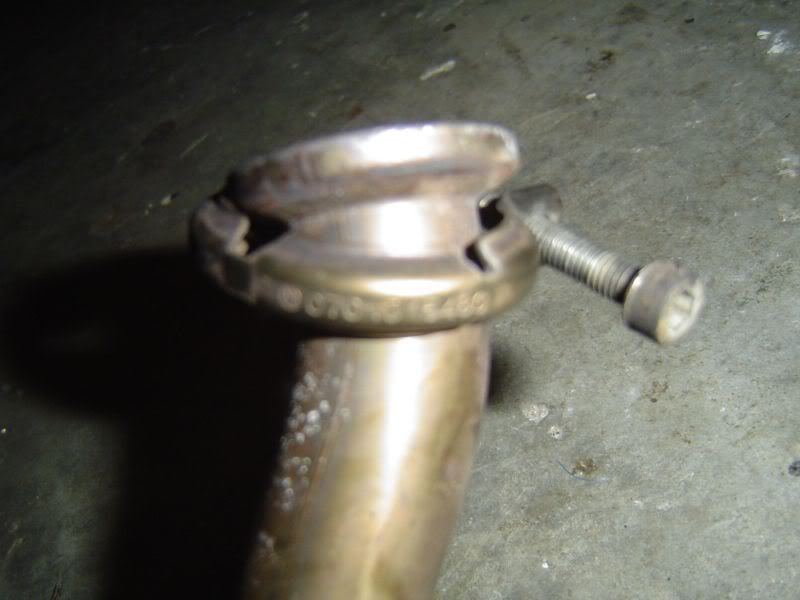 (Photo 6: 5mm Allan Key Bolt - Pipe Connector to Manifold)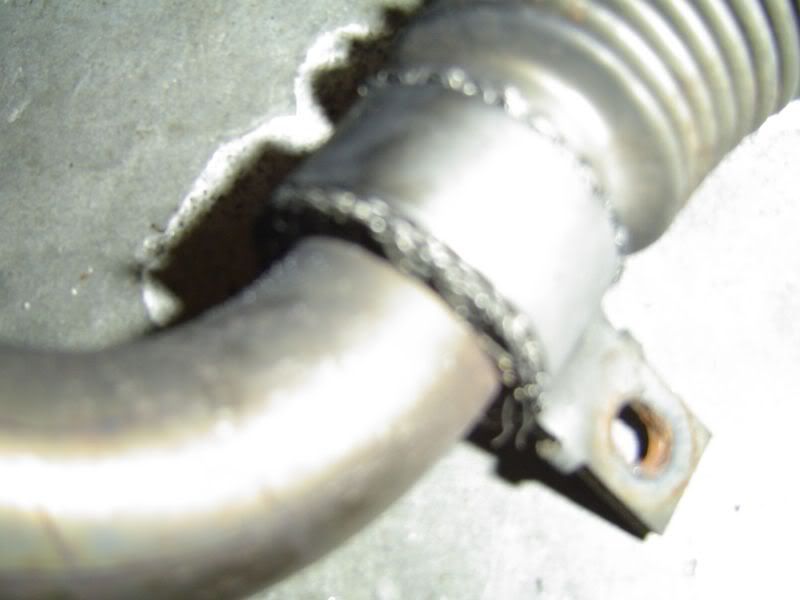 (Photo 7: 10mm Bolt attaching to Support Stay)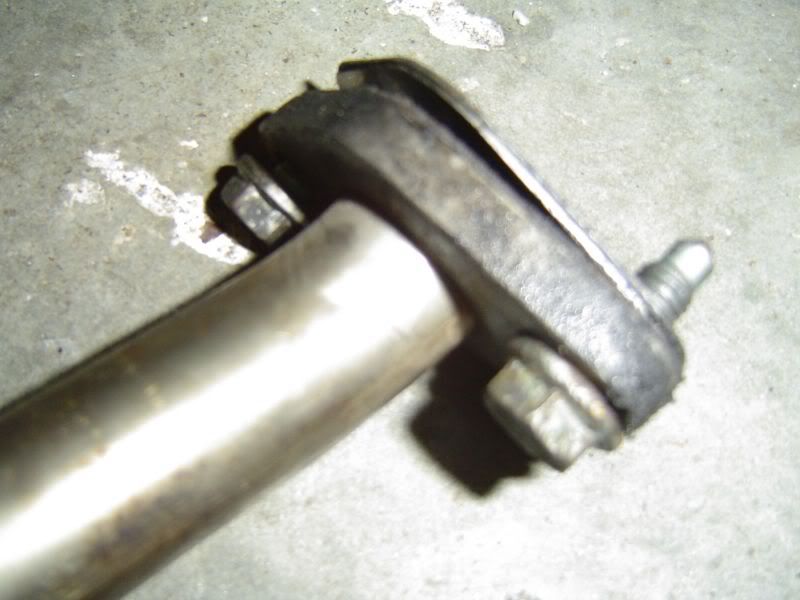 (Photo 8: Two 13mm Bolts - Connector Pipe to EGR Valve, watch you don't lose the gasket and/or EGR Blank Plate)
_____________________________________
( 3 ) Remove Pressure Pipe - Intercooler to Turbo (Photo 9) !!ABOVE VAN!!
To remove this pressure pipe you will need a large flat blade screwdriver. Insert screwdriver under retaining clip (Photo 10) and prise up. There are three clips and the pipe comes off in two bits. Two of the clips are the same size and one is smaller, this smaller one goes at the turbo end! Insert a clean rag over each of the exposed ends and hold them in place with an elastic band to stop bits going into the turbo or the intercooler.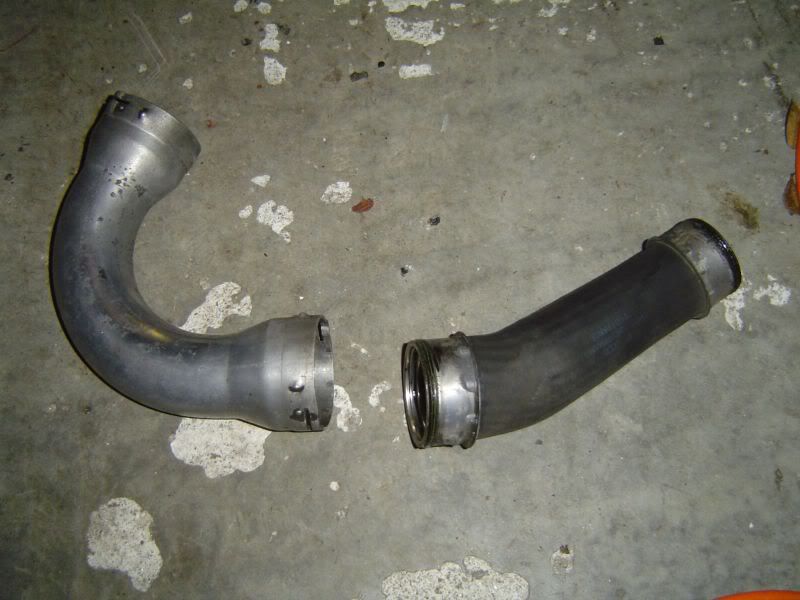 (Photo 9: Pressure Pipe - comes apart in two bits or three or four if you f*ck it up)
(Photo 10: Retaining Clip x3, there are two the same size and one not, the smaller one goes at the turbo end)
______________________________________
(4) Remove Air Box to Turbo Pipe.
Using a set of pliers/mole grips remove the clip at the air box end by clamping the tabs together.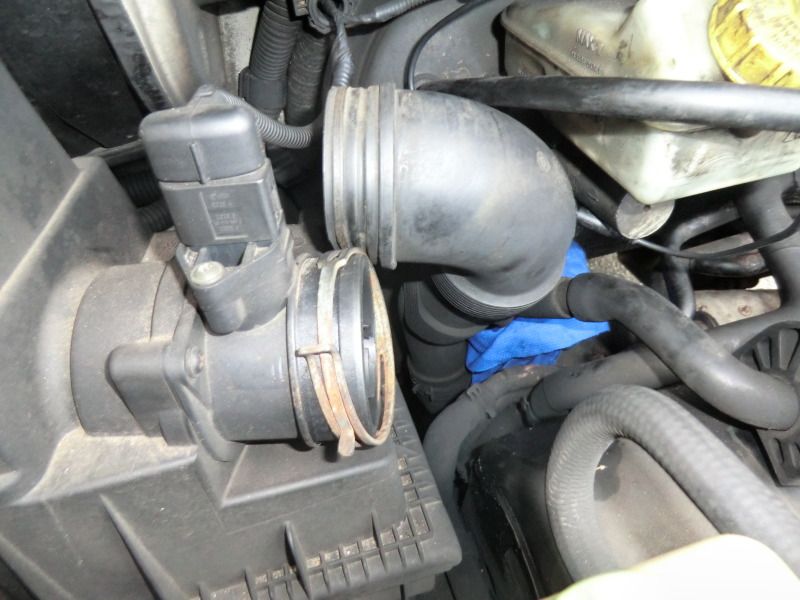 Remove the pipe that joins this one from the engine cover.
This will need to be repeated at the lower end too (photo below in red circle). It might be worthwhile removing the air box lid to do this.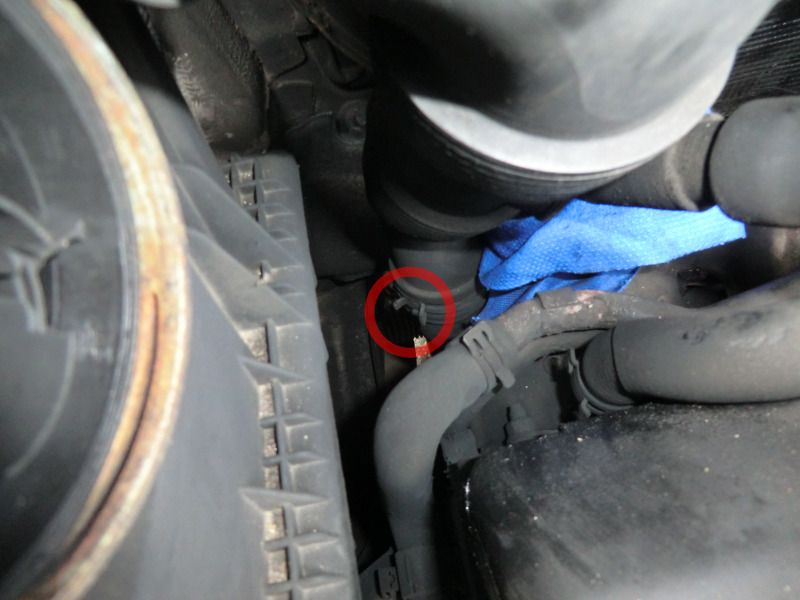 You should be left with this: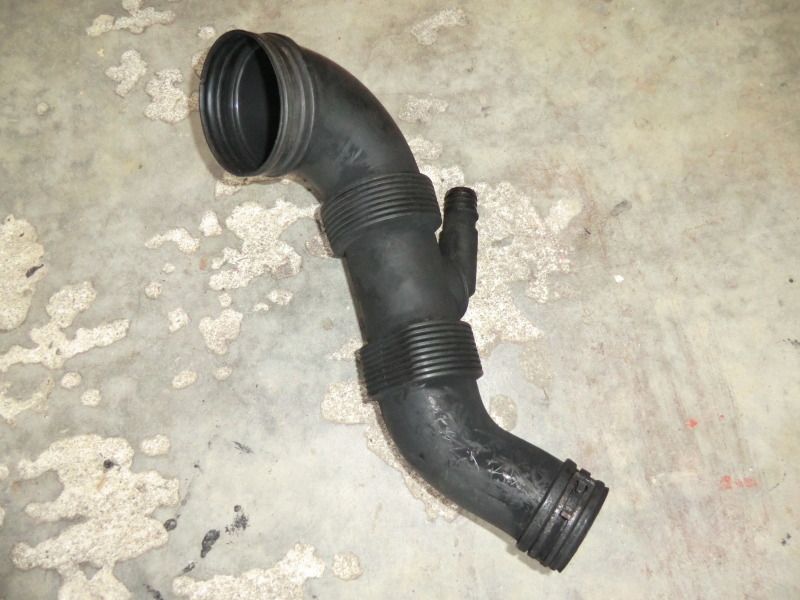 ( 5 ) Remove Turbo
From above, remove the 4 M10 spline/triple square bolts off the top of the Turbo.


( 5.1 ) Remove Bottom Tray (Sump Guard) - You'll thank me for this later.
Think it is 12mm or 13mm.
( 5.2 ) Make this with your socket set.
Disconnect the vacuum pipe (Blue circle) off the bottom of the VGV actuator - this is just an air pipe so shouldn't have liquid all over the place.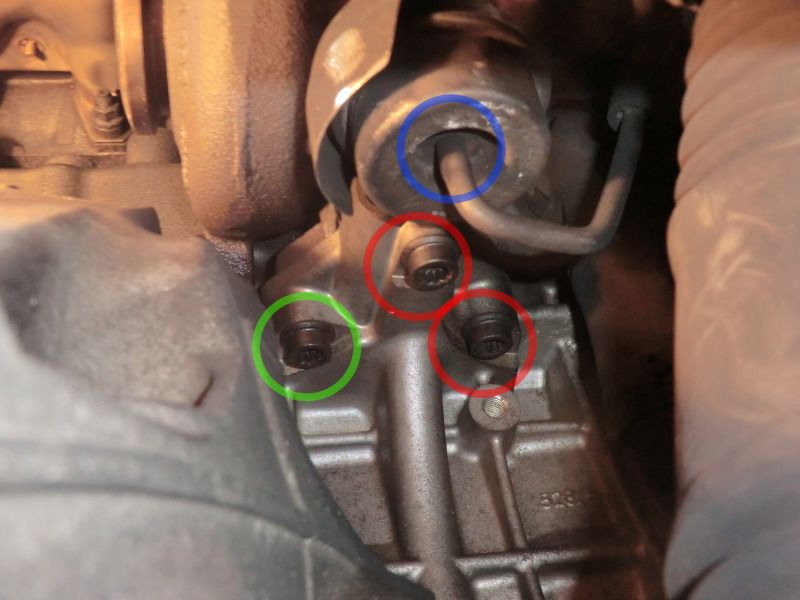 There are 3x M12 spline/triple square bolts x3 from the bottom/back of the turbo - This is a ball ache! If only I had this guide before I started! Do not lose faith with these, it can be done, even I have managed it.........eventually!
Use the socket setup shown in (6) on the two bolts marked in red circles, then use a ratchet and the spline/triple square on the bolt in the green circle - this will work, just got to fiddle about a lot to get it to go.
Now you need to remove the bolt on the left side of the turbo - it is a 16mm bolt (pictured below in red).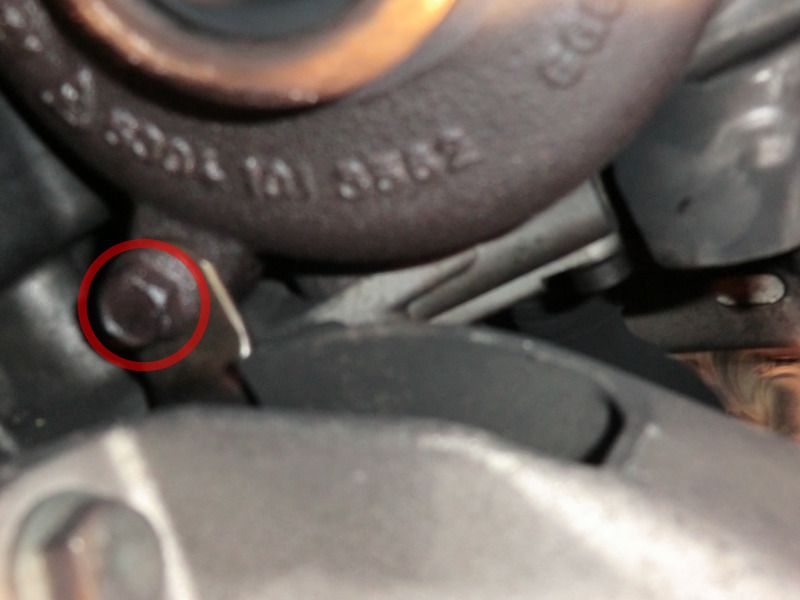 Now you have freed up the turbo - you are not out of the woods yet! The space that the turbo sits in is smaller than the turbo, well, it certainly seems like it. After a lot of struggling - I mean a good hours worth, I managed to get it out. T5 TDI got his out a lot easier by undoing the manifold and working around the free-moving turbo.
Cover the inlet that is exposed by removing the turbo.
( 8 ) Remove the manifold
This can all be done from above the engine. Remove the ten 12mm nuts and washers (keep hold of washers as they don't come with the replacement nuts)
Once all of the nuts have been removed, get under the van, and remove the manifold.
( 9 ) Remove heat shield.
To do this, you might find a better way. I stuck a small punch under each tab, hit it with a hammer upwards and they all eventually popped up. Use a bigger punch to get them back to original shape and when it comes to it, use an 8mm spanner and a hammer to force them back on.
( 10 ) Do some welding, replace manifold
( 11 ) Have a brew and then do this walkthrough in reverse.


Edited by Liquidfreak - 03 Apr 12 at 20:33