Hanover / Leipzig, 4 April 2008: Volkswagen Commercial Vehicles will be presenting the touring vehicle version of the Caddy Maxi Life, the Tramper, and the special model Caddy Life Style at AMI Leipzig. Both models have comprehensive equipment ranges, which once again emphasise the benefits of the "little" people carriers from Hannover as touring vehicles or exclusive MPVs. The Multivan United will also be presented for the first time. It combines various features for personalising the vehicle. The Caddy BlueMotion and the Caddy Maxi EcoFuel will also be available to view at the natural gas initiative stand.

The Caddy Maxi Tramper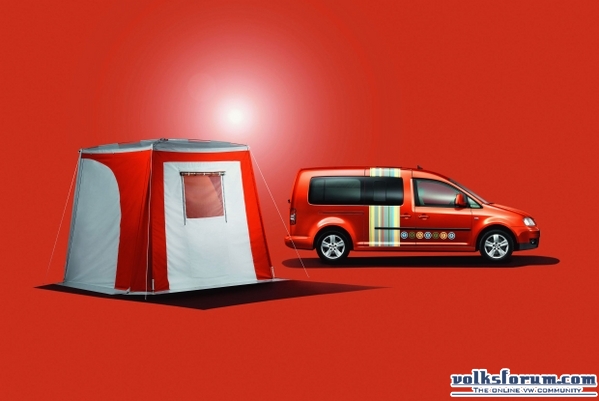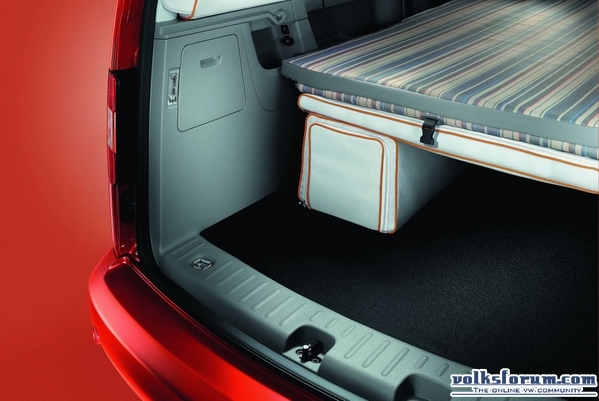 The Caddy Maxi Tramper is based on the Life passenger car model and caters for the needs of amateur athletes, occasional campers and independent travellers with its mobile construction. Like its little brother, its structure is designed so that it does not encroach upon the Caddy Life. The Caddy Life Tramper thus has a bed on which to spend the night: it can be set up in just a few steps and only travels with the vehicle if the driver wants it to. The Caddy transports the Good Night Unit packed-away and firmly anchored in the luggage compartment, which is included as standard, almost as though it were transporting cargo and without restricting the use of this compartment. As before, users can stow their everyday shopping items or holiday equipment. The three-section tilting sleeping area also acts as the luggage compartment cover.
To set up the bed, the rear seats simply need to be folded so that the backrests rest on the seating area and the front seat back rests also need to be folded forward. The bed, which is approx. 2 m long and 1.1 m wide, can then be opened out like a camping bed in the vehicle. A curtain is affixed to both the roof gallery, which is fitted as standard, and to the top stowage nets and can be used to block out the light. The curtain can be secured to the mattress by means of a zip fastening. An easy-to-tauten magnetic curtain on the rear window prevents any unwanted prying glances from outside. A roller blind is also available as an option. Four removable storage pockets cover the rear side windows. The roof gallery remains within reach even when the bed is made up at night. If desired, ventilation grilles with insect protection are also available to provide fresh air while you sleep. The passenger area lighting, fitted as standard, ensures that there is sufficient light where needed. And if the light happens to stay on during the night, a battery saver prevents the vehicle battery from losing its charge.
Three engines are available to choose from in the Caddy Maxi Life. The 1.6 l petrol engine has an output of 75 kW (102 PS). It has a maximum torque of 148 Newton metres. The two TDI engines provide even more performance and are particularly economical. The tried-and-tested 1.9 TDI with 77 kW (105 PS) is the entry-level diesel. The most powerful engine available in the Caddy Maxi Life is a 2.0 l TDI with an output of 103 kW (140 PS) and a diesel particulate filter. It has a maximum torque of 320 Newton metres at 2,500 rpm and is therefore a superior source of mobility even under maximum payload.
Two quick-to-assemble tents are also available. They are partially hung beneath the open tailgate and provide plenty of space for camping and two different surfaces. The list of accessories available includes an electric sliding/tilting sunroof, a removable 7-litre cool box and outdoor furniture, comprising a table and two chairs.
The Caddy Life Style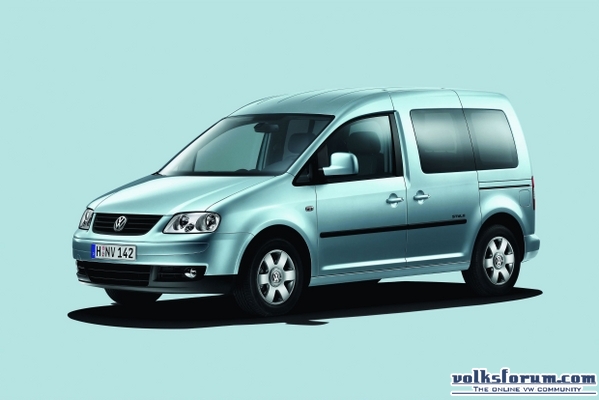 The Caddy Life Style meets the highest standards of quality in the privately-used city van segment. Its appearance alone is of passenger car quality: all add-on parts, such as bumpers, door handles, luggage compartment handle and exterior mirror housing, are colour-coded in the vehicle colours Crystal Blue, Off-Road Grey Metallic, Reflex Silver Metallic or Black Magic Pearl Effect. Tinted rear windows and 15-inch alloy wheels round off its attractive appearance.
But that's not all: the new Caddy Style also has an attractive interior with fresh compositions and coloured inlays. To create a sophisticated look and for pleasant haptic qualities, the steering wheel, gearstick knob and handbrake lever are all covered in leather. The Climatic air conditioning system and heated seats, fitted as standard, ensure that the interior temperature is pleasant at all times. Six speakers are also there to provide unrestricted listening pleasure, whether your music is played using the Radio RCD 310 or an external storage medium such as an MP3 player or an iPod, which is easy to connect, operate and playback. Control systems such as ESP and an illumination package are also on board for increased safety.
The familiar petrol and diesel engines are available to choose from: a 1.4 l petrol engine with an output of 59 kW (80 PS), a 1.6 l petrol engine with an output of 75 kW (102 PS) and a 1.9 l TDI engine with 55 kW (75 PS) or 77 kW (105 PS). A 2.0 l TDI engine with an output of 103 kW (140 PS) has also been available for the Caddy Life since the beginning of 2008. In addition to the conventional engines, a quasi-monovalent engine concept named EcoFuel has also been available since June 2006. The 2.0 l engine, which is powered by natural gas, has an output of 80 kW / 109 PS.
The Caddy Maxi EcoFuel "study"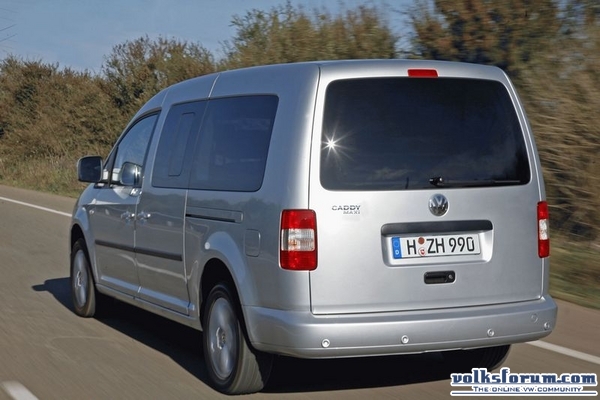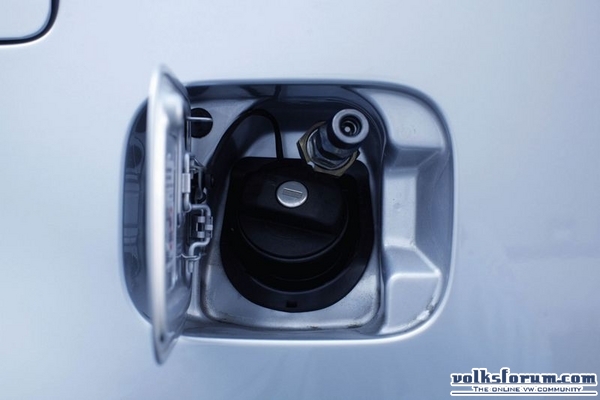 Just like the shorter Caddy EcoFuel, which was once again the bestselling natural gas-powered vehicle in Germany in 2007, the 47-centimetre longer Caddy Maxi EcoFuel also has a quasi-monovalent engine concept. This means that the 80 kW / 109 PS 2.0 l four-cylinder engine has a high compression ratio of 13.5:1 to ensure that it makes the optimal use of energy when running on natural gas. However, it can also run on petrol, as shown. Thanks to the extended wheelbase, the vehicle can hold 37 kilograms of natural gas. When running on natural gas alone, the seven-seater has a range of some 570 kilometres.
Caddy BlueMotion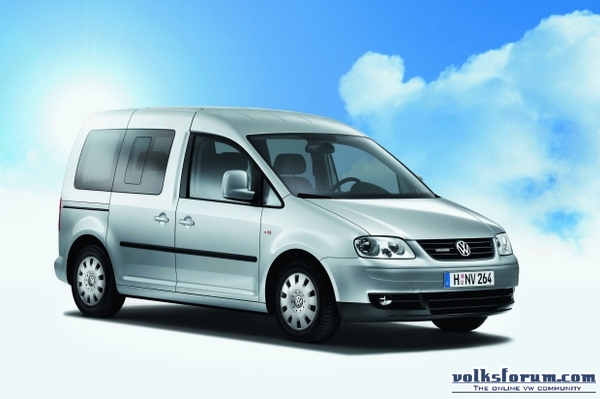 Volkswagen Commercial Vehicles is presenting an economic and environmentally-friendly model with the Caddy BlueMotion. Initially shown at the IAA International Motor Show as a study, the BlueMotion has now been dressed up for series production. The standard fuel consumption in the Caddy BlueMotion, which is powered by a 77 kW / 105 PS TDI and has a diesel particulate filter as standard, has also been reduced by 0.6 litres to 5.7 litres of diesel through numerous technical and aerodynamic measures. This figure corresponds to CO2 emissions of 149 g/km (down by 18 g/km).